Skip to product information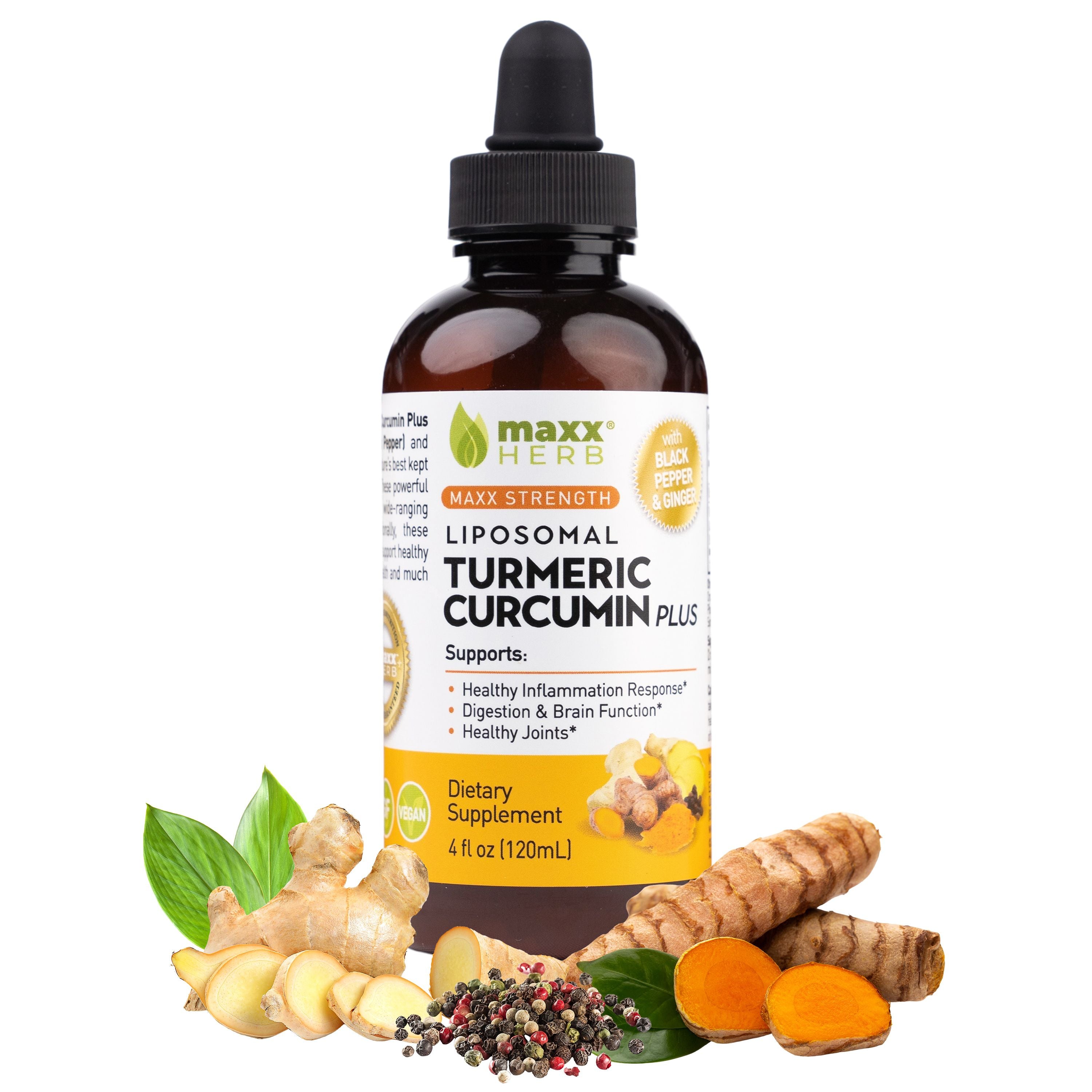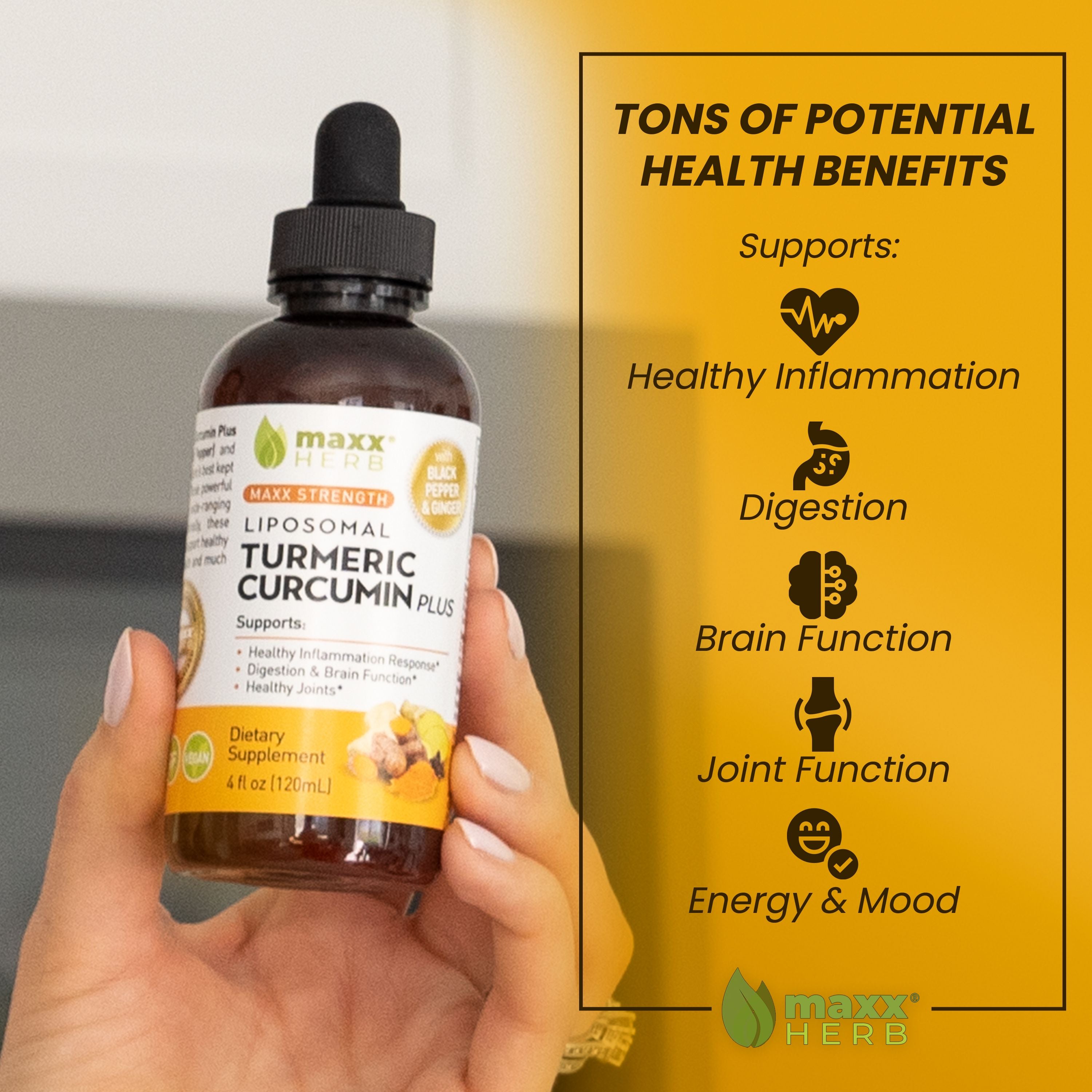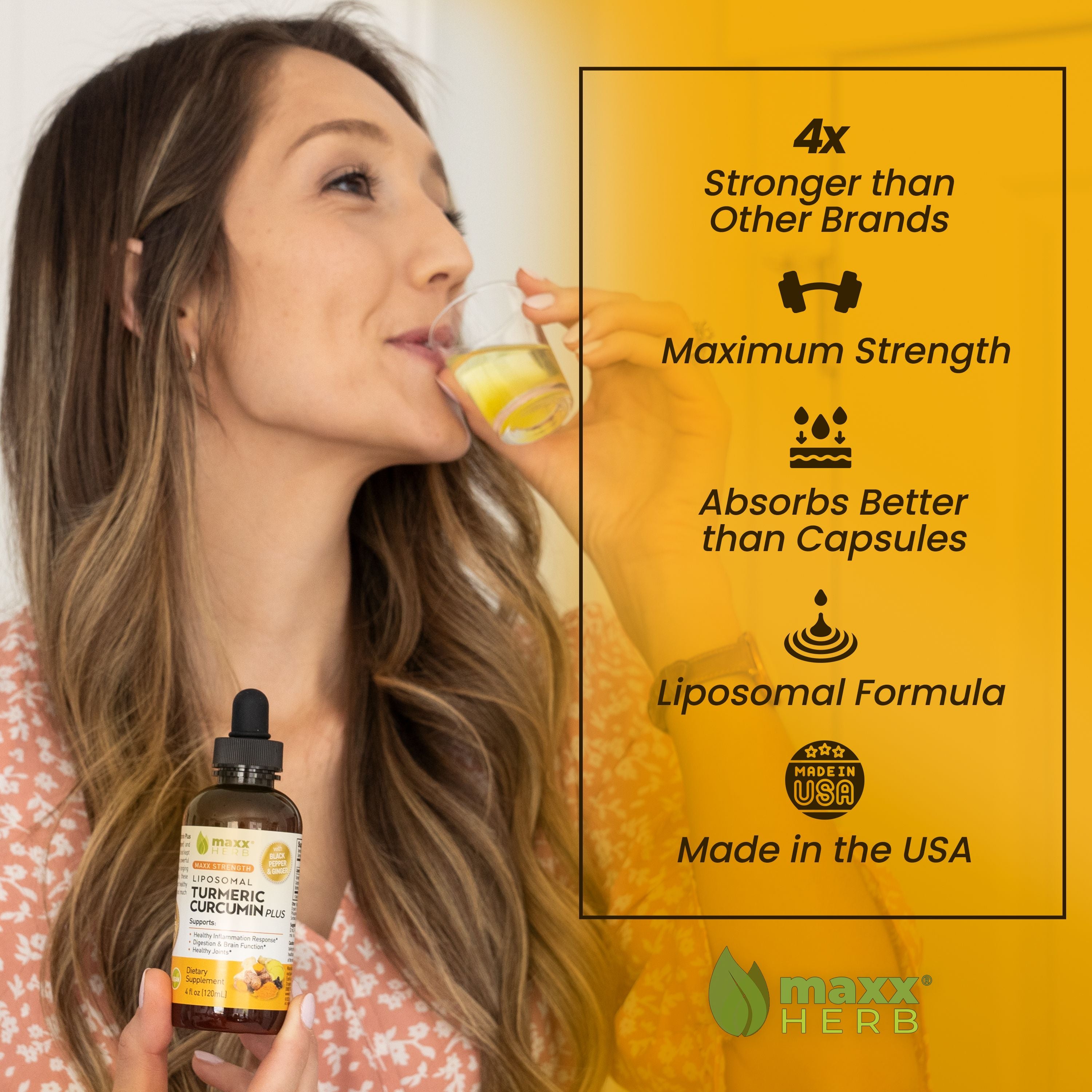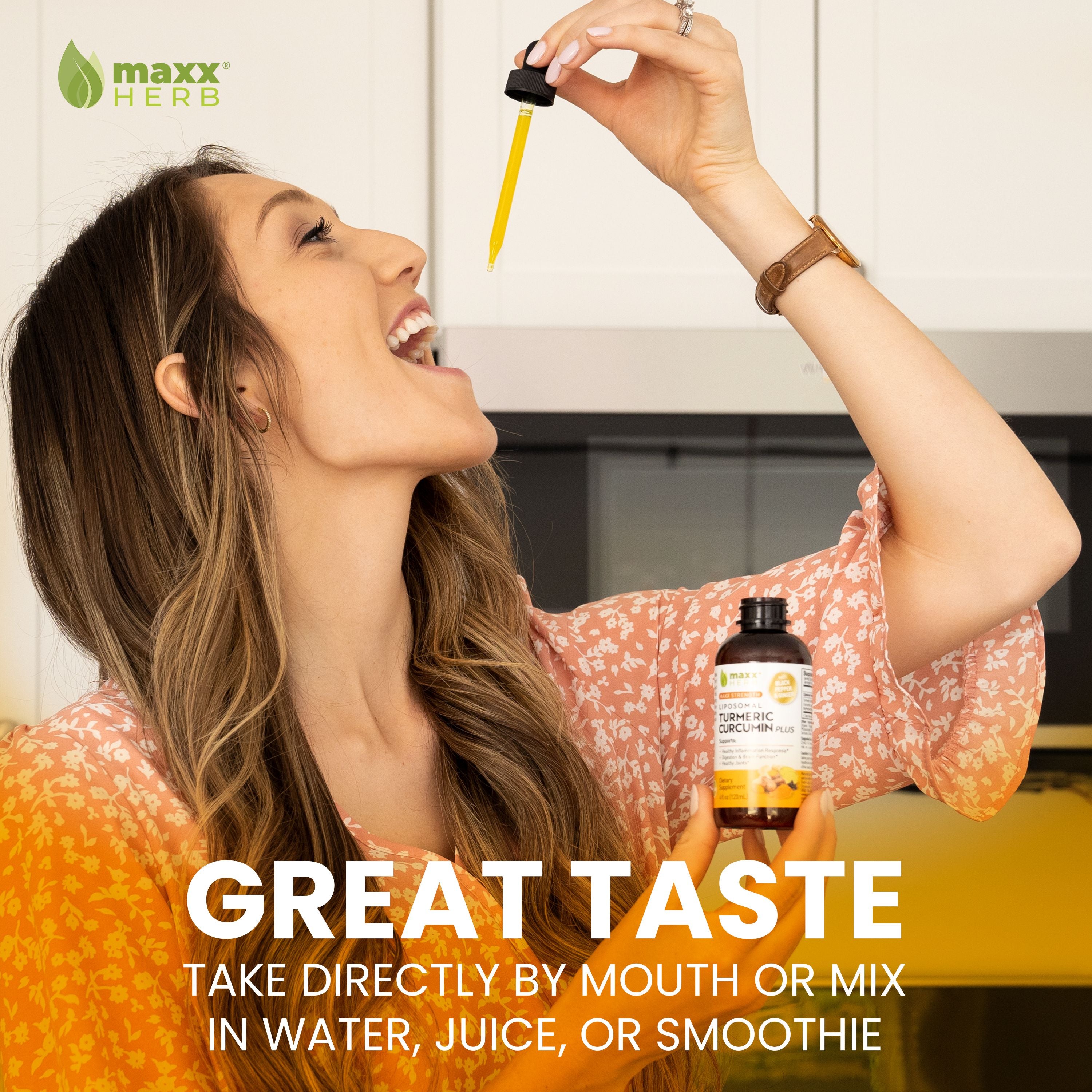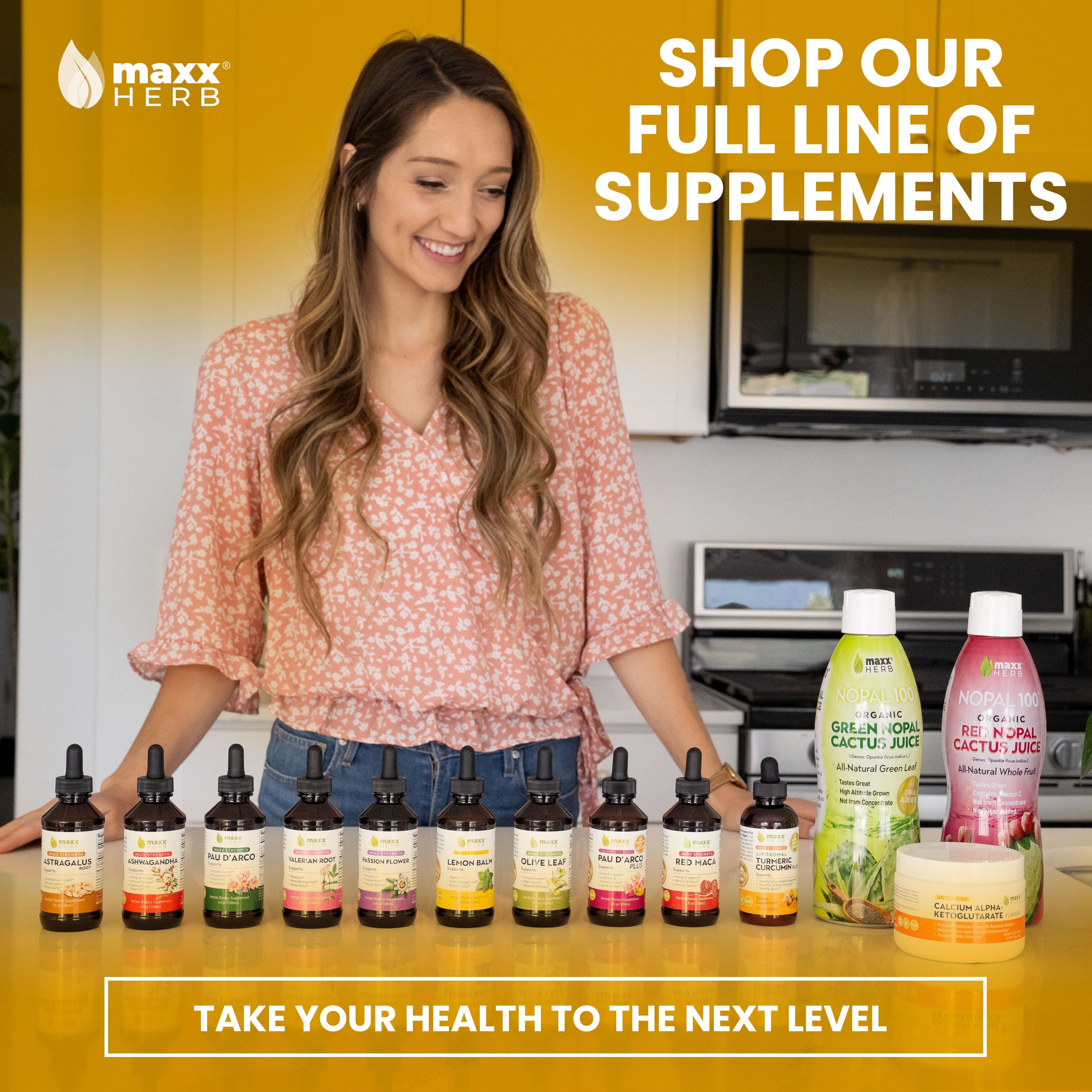 Made with revolutionary liposomal technology, for better absorption, these drops are purely made from a super-concentrated extract of Turmeric Root (95% Curcumin) BioPerine® (black pepper), and Ginger. Now you can support healthy joints, digestion, brain function and add some natural functionality and relief to your busy day.
100% plant-based, raw, natural, and wild-harvested 

Designed to be effective and easily absorbed 

2-4 times stronger than other extracts

Regular price
$29.95 USD
Sale price
$28.95 USD
Unit price
per
Sale
Sold out
Share
View full details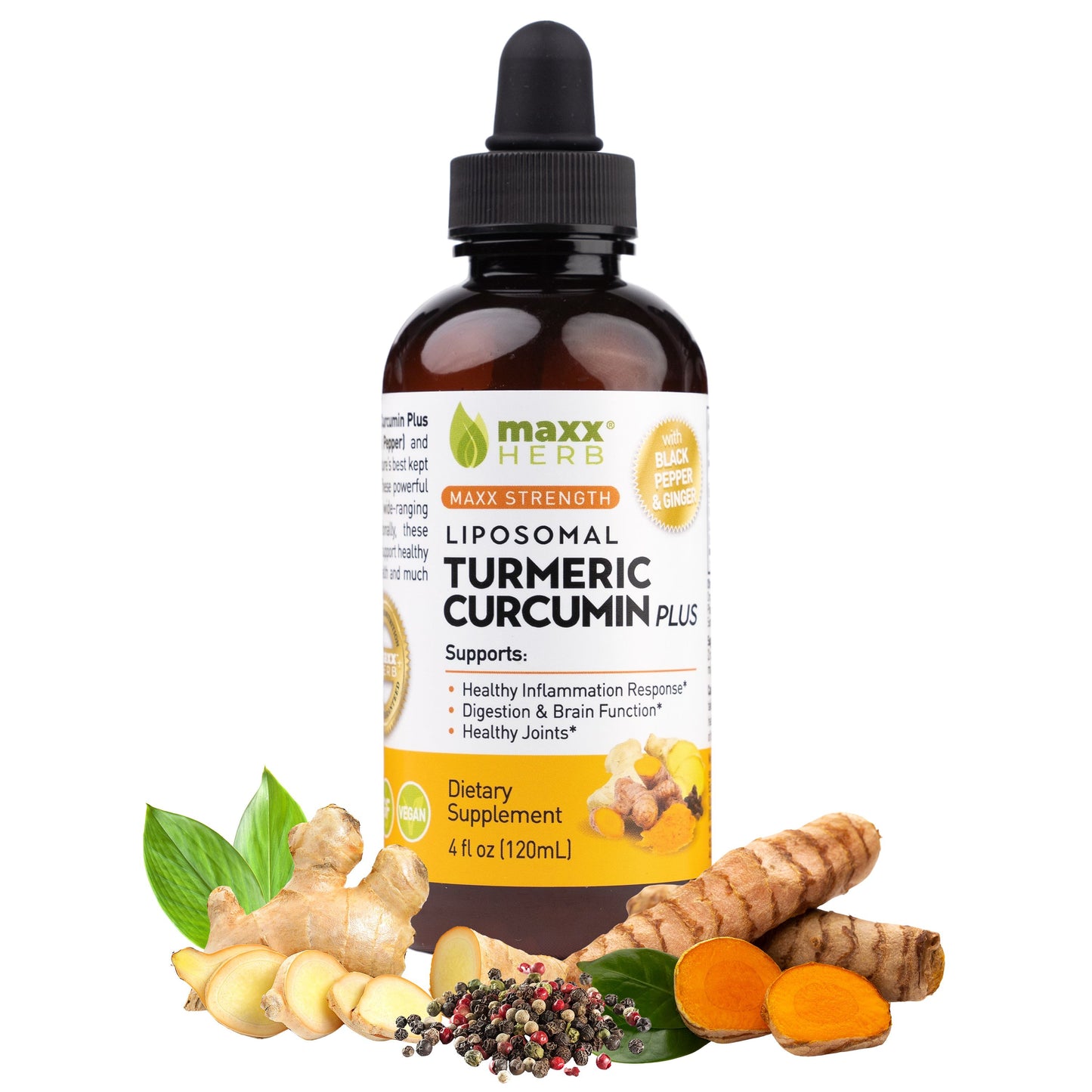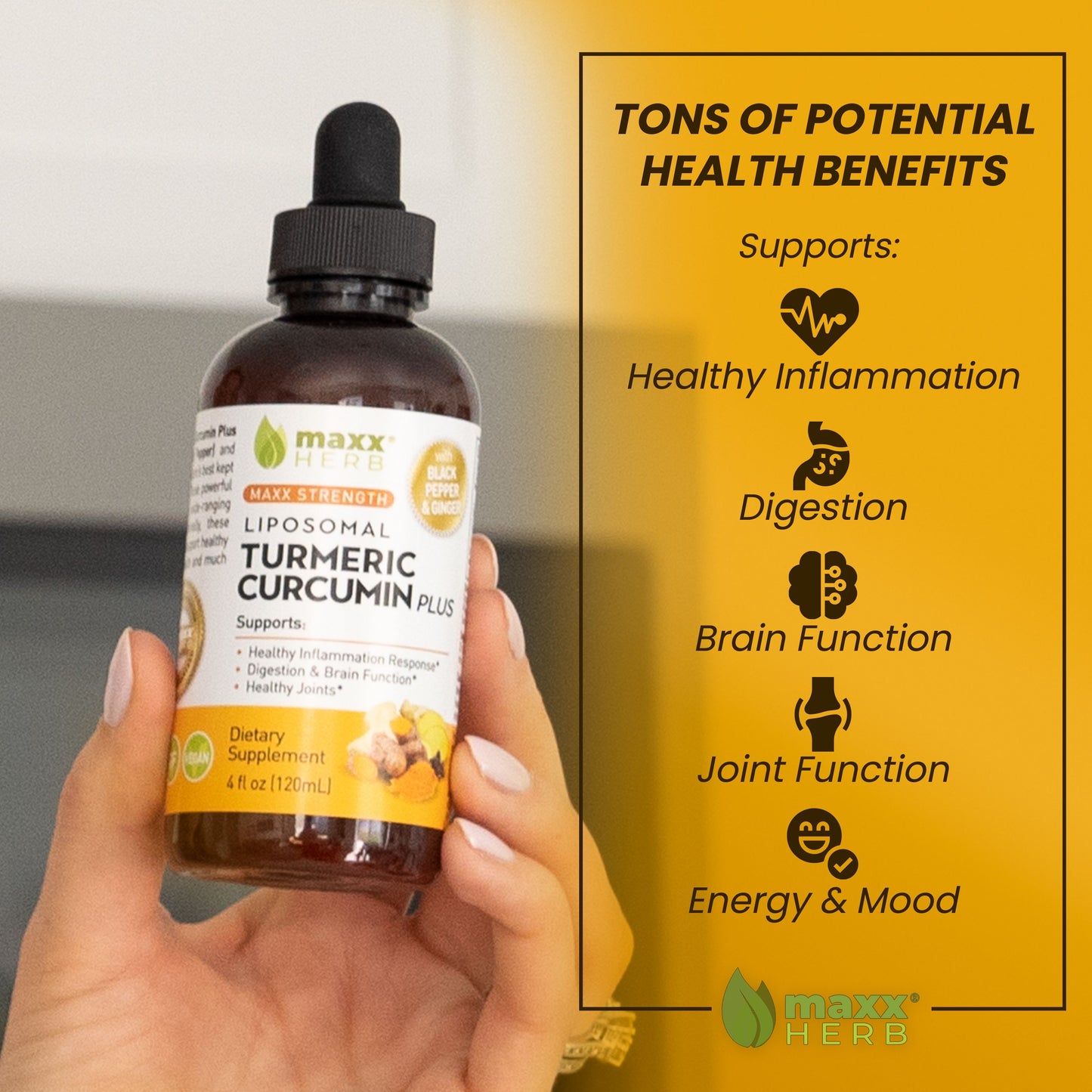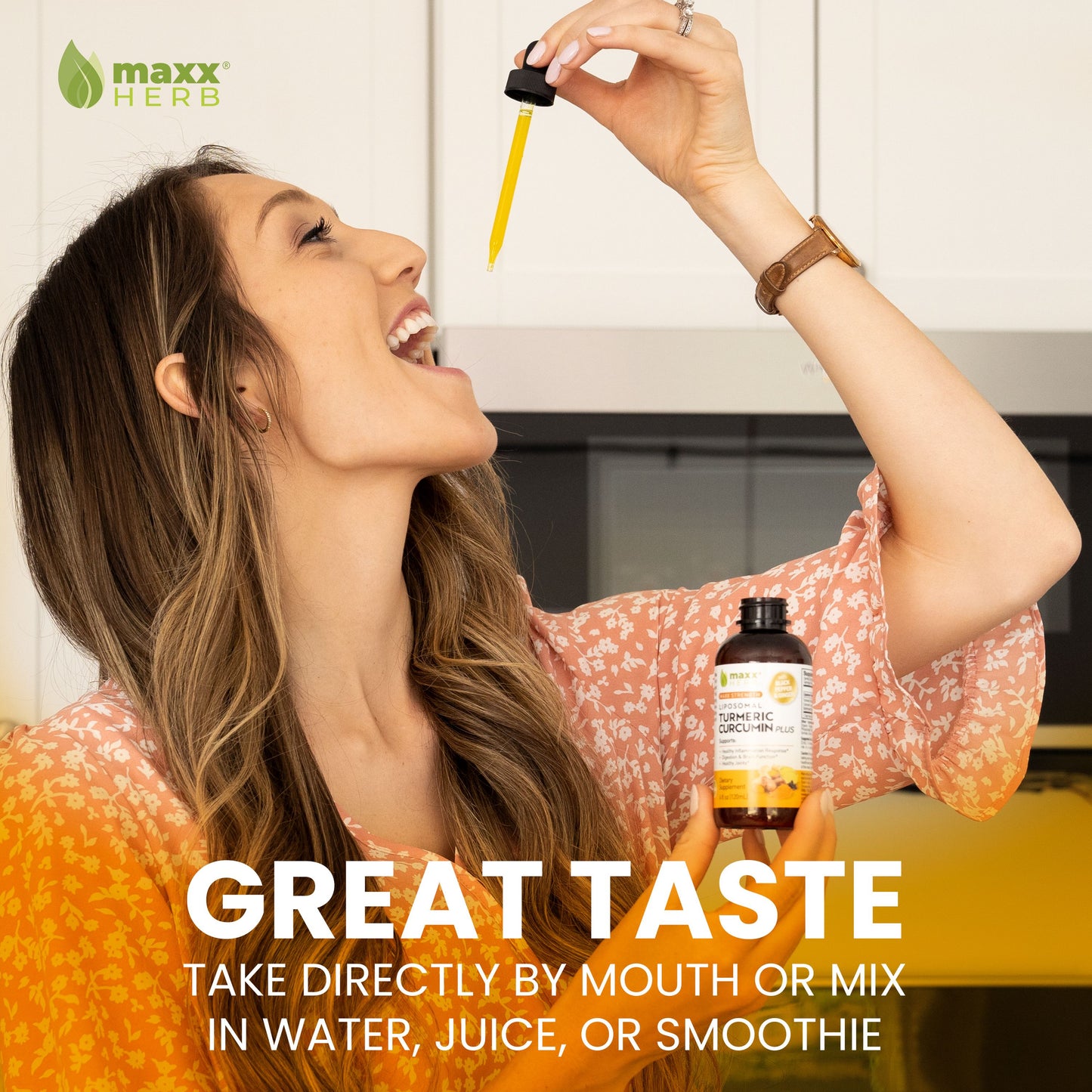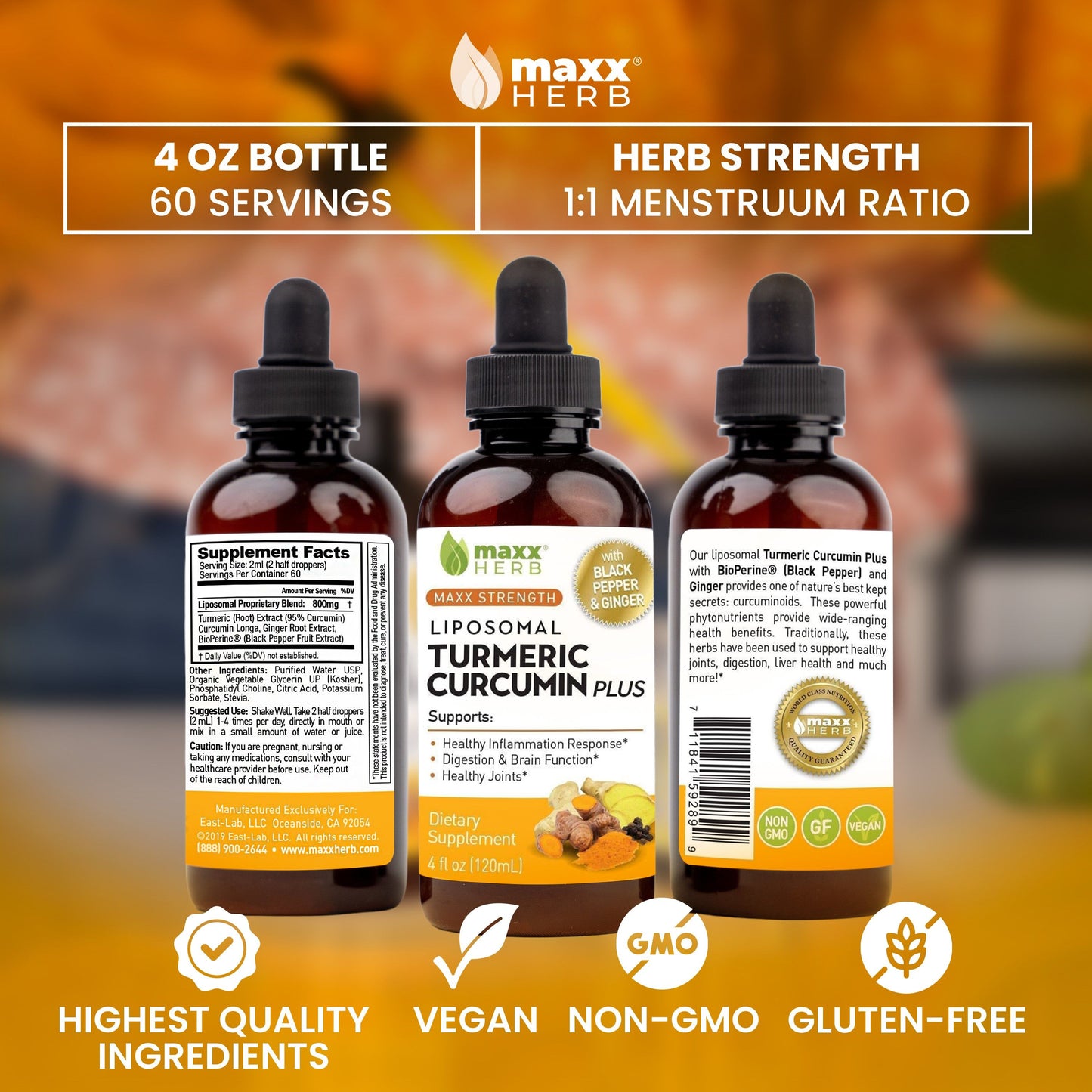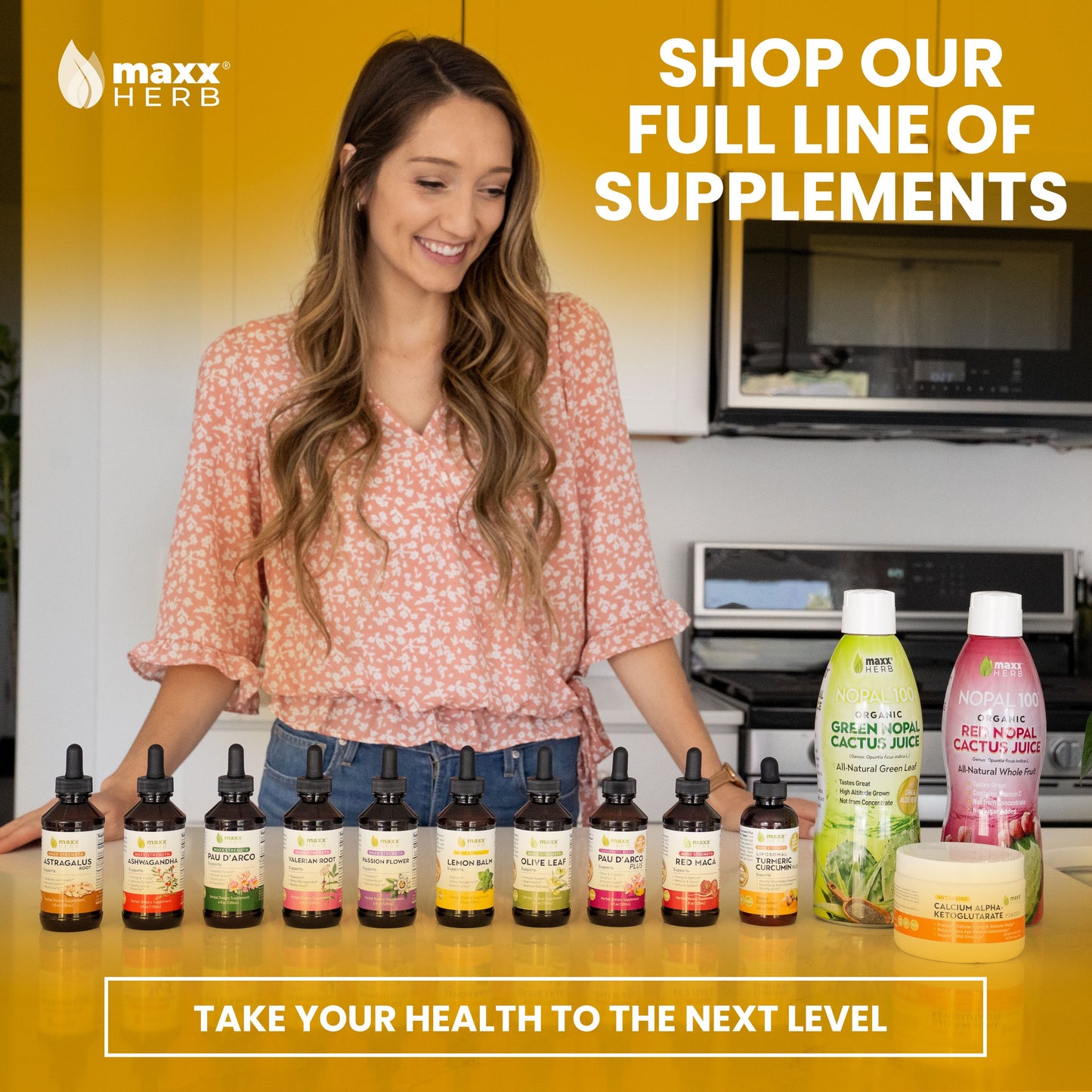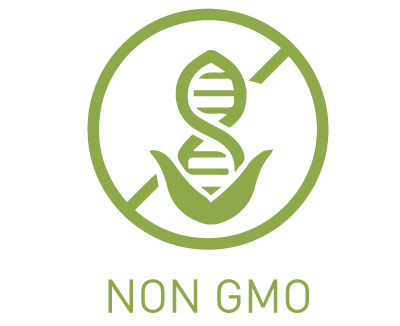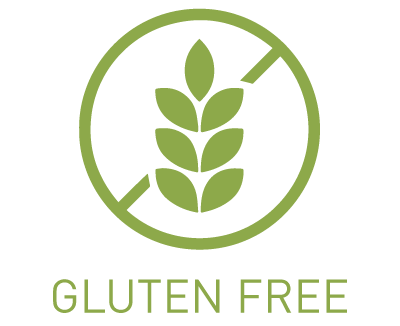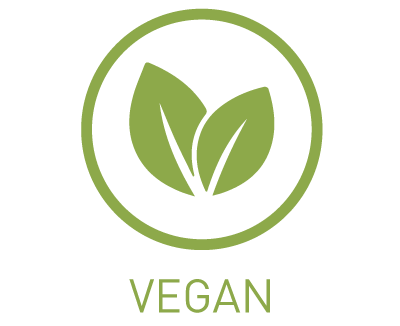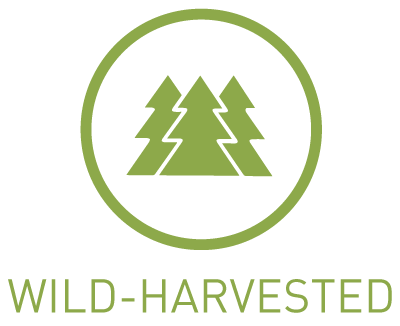 SEE WHY OUR CUSTOMERS LOVE MAXX HERB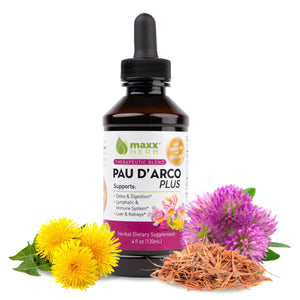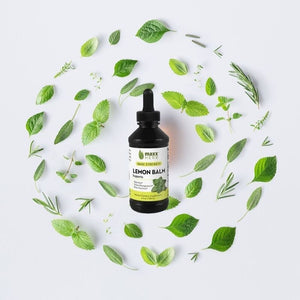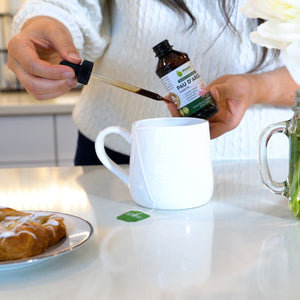 Pure Materials
Wild-Harvested exclusively from the Turmeric Root, 95% Curcumin, BioPerine® (black pepper), and Ginger. Each ingredient is wild-harvested at the peak of readiness, carefully shade-dried to retain its full color and aroma, and then properly extracted. We use an 8lb combination of each ingredient per gallon of base (1:1 Menstruum Ratio), which is double the 2-4lb herb strength that most other extracts offer.
Proven Process
Maxx Herb's two-week, carefully executed extraction process provides maximum strength, allowing the body to absorb the extract quickly and effectively. All of our extracts are natural, non-GMO, vegan, and gluten-free.
Extract vs Teas & Capsules
Liquid extract form simply offers volatile oils and esters that tea or capsules do not. Extracts are easily mixed with water, juice, or smoothies making them a simple addition to your daily routine. Extracts can also be taken by simply putting a few drops under your tongue.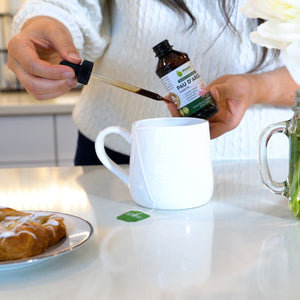 RECOMMENDED USE
Take two half droppers (2 mL) 1-4 times per day, directly in mouth or mix in a small amount of water or juice.
FAQ
What makes Tumeric / Curcumin so beneficial?

Curcumin is the amazing active compound found within the turmeric root. It has long been used as therapy in traditional Chinese and Ayurvedic medicines. It's both antioxidant rich and is an amazing daily supplement for promoting healthy inflammation response in the body. Turmeric / curcumin contains potent antioxidants known as curcuminoids which provide numerous health benefits. Modern research has confirmed the benefits of turmeric for promoting joint health, potent anti-inflammatory and antioxidant properties.
Now, using our proprietary liposomal delivery technology, we can deliver the best characteristics of the highest quality liquid turmeric in our incredible turmeric extract, which is much more absorbed do. Try it today and experience the benefits of turmeric!
What makes this the best turmeric extract?

Answer: We start with the highest quality turmeric root. We then blend it with BioPerine ® (black pepper extract) for maximum absorption. In addition, we add ginger which provides digestive support. Ginger is a close botanical relative to turmeric and has many overlapping nutrients and benefits. Research shows that when the turmeric and ginger are combined, they have an increased healing effect. If you're not already excited to try this amazing product and believe yet that this is the best turmeric extract on the market… we literally take it to the next level of health, by utilizing a new liposomal deliver system which even increases the absorption further.
This product will satisfy even the most discerning individuals who demand quality and value. Don't fall for other inferior supplements that are watered down, contain fillers, preservatives, and toxic compounds. Our 90-day money back guarantee lets you know that this turmeric extract is formulated for purity and potency!
What is Liposomal Technology?

It's important to note that liquid liquids are the superior choice as they contain volatile oils & esters that capsules, powders and even teas don't. Now by introducing a liposomal delivery system, we assure that it's the most potent dietary supplement that you can take orally.
Is Maxx Herb Liposomal Turmeric Curcumin Plus extract all natural?

Yes! We use the highest quality Wild-Harvest ingredients with no alcohol, filler or additives. It's vegan, non-gmo and tastes great too!
How does Maxx Herb Liposomal Turmeric Curcumin Plus compare price wise?

Most other turmeric extracts are only 2 ounces. Typically, they cost $25 or more for a 2-ounce bottle. Our product is a full 4 ounces and retails for only $29.95, plus if you buy 3 bottles you will get 1 free, making it a tremendous value. That's just the beginning. We utilize a revolutionary method of liposomal technology which is designed to help your body absorb more Turmeric, Ginger and Black Pepper. Liposomal deliver can increase absorption up to 4 times or more.
No matter how you look at it… based on price, strength and convenience, Maxx Herb Liposomal Turmeric Curcumin Plus is by far the health-conscious consumers' choice! Join the thousands of Maxx Herb consumers today and start experiencing the health benefits nature intended.